Many businesses question whether billboards are still effective in helping advertise their brand and drive more sales. Debuting a new car, promoting an event, telling a driver to stop to enjoy a delicious burger. The goal is always to same: increase sales.
So, do billboards work? The short answer is yes. Billboards are an extremely effective part of a holistic marketing strategy.
But here's a longer answer to better understand why billboards should be utilized in your company's marketing moving forward.
Why Should You Advertise on Billboards
All out of home (OOH) advertising is any type of ad people consume when they are physically outside of their living space. Examples of this include billboards, place-based media, street furniture, digital displays, and more. One of the most common OOH methods is the billboard, a stranger to no one. These large canvases of advertisements have been around for over 100 years, making it one of the oldest forms of OOH media. Despite the sudden emergence of other marketing strategies, this form of advertising is still very important and very effective in helping companies build brand awareness, drive action, and generate profits. In fact, billboards comprised 65% of the overall revenue for OOH advertising categories in 2013. Not bad.
It is hard to miss these enormous brand endorsements that are sprinkled around the freeway, in the city, or even in stadiums. They are literally everywhere. Most people spend the majority of their time out of their homes and a good portion of their time outside is spent driving, which is why billboards have such a high potential. However, drivers are only able to read a billboard for as little as 5 to 10 seconds, with 6 seconds typically stated as the average. This presents a very small window of opportunity to pitch your product. Therefore, a billboard should accurately convey the message of the company to help you achieve whatever goal you have set. The key to making it effective is to have a good advertisement; one that is concise, bold, and memorable. It should make a strong impression on the viewer and be able to clearly deliver your message with a quick glance.
Return on investment (ROI) for billboards is understandably a difficult measure to determine. Whether the customer took an action directly because of the ad can be unclear and the action can occur long after a consumer has viewed the ad, allowing a diversity of other factors to bear influence. The impact of a billboard or series of billboards also heavily depends on location, content, duration, among other variables, which further complicates ROI calculation. However, the Outdoor Advertising Association of America (OAAA) determined in 2017 through a study with Omnicom Media Group's Benchmarking that a business makes an average of $5.97 per dollar invested in OOH. This value is well above the ROI for digital, print, and radio advertising. If that isn't enough evidence indicating the continued effectiveness of billboards, then let's take a look at an example of a modern, traditional billboard campaign that was extremely successful.
Traditional Billboards For The Win: Coca-Cola's The Sign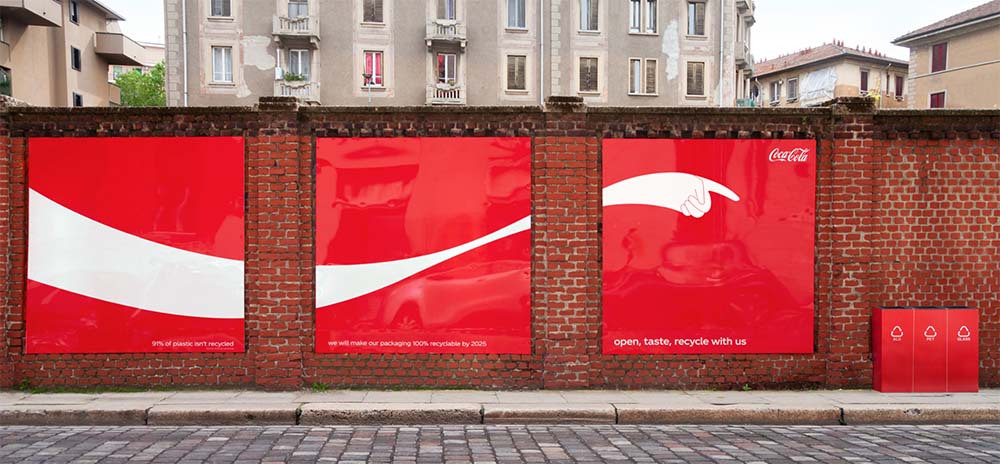 An example of an effective traditional billboard campaign was "The Sign" for Coca-Cola in mid-2019. Spearheaded by the advertising and publishing agency Publicis Italy, The Sign was an OOH campaign that Coca-Cola ran in central and eastern Europe with the goal of motivating people to recycle more and reduce the amount of waste they produce. They had been influenced by research showing that a 141% increase in separate collection (allocating different trash materials into their appropriate containers) resulted once the designated bins could be easily found. This campaign went hand in hand with the promises Coca-Cola made in 2018 through its World Without Waste Initiative. The World Without Waste Initiative is a company-wide, global effort to improve recycling collection, create more sustainable and recyclable packaging, and partner with organizations, communities, and even competitors to decrease packaging waste.
By 2030, Coca-Cola aims to be able to recycle a can or bottle for each one sold. They also want to make all of their packaging 100% recyclable by the year 2025. The beverage giant is strongly looking to make a difference in the sustainable movement, paving the way towards a greener Earth.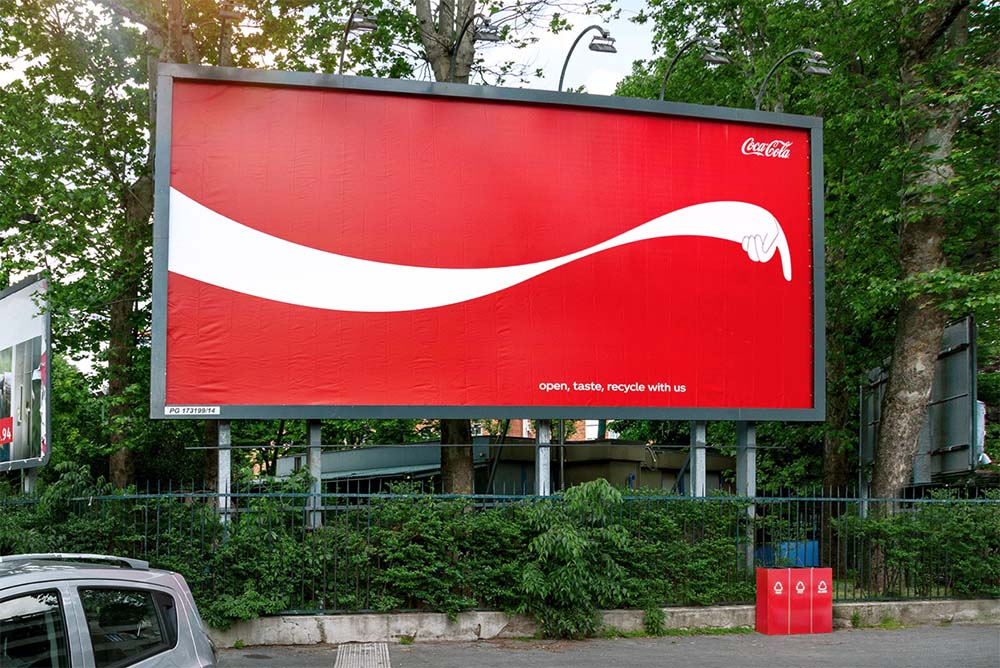 Modifying their iconic red background and white ribbon swirl, the Publicis and Coca-Cola campaign consisted of directional signs that literally pointed passersby to nearby recycling stations, making them easier to find. The only text on the ad was a short and sweet sentence saying "Open, taste, recycle with us". As explained by Publicis Italy's Art Director Andrea Raia, the process of choosing each media space was driven by whether a nearby pre-existing or new recycling bin could be spotlighted by their ad. These bins would be located in highly visible spots with a large amount of traffic. On each board, the ribbon hand was specially oriented to point towards the nearby recycling station. The Happy Energy Tour in Bulgaria served as a sort of testing grounds for the Coca-Cola billboard campaign. This large music event had attracted over 200,000 attendees in 2018, providing more than enough people to quantify the potential impact of The Sign.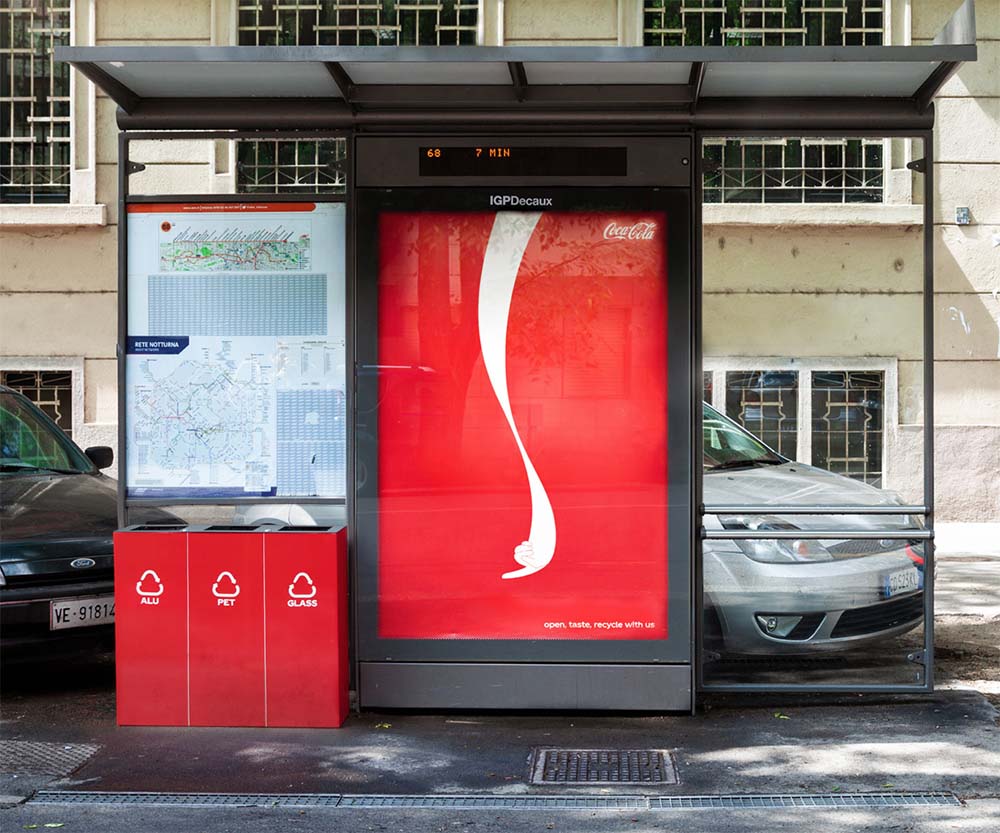 The Sign was widely successful in mobilizing consumers to take part in recycling. Early results from Publicis indicated that 85% of cans had been appropriately discarded by Happy Energy Tour attendees, which was significantly higher than the previous year. With the billboards' minimal design and text, bold and memorable color scheme, and opportunistic locations, success was hardly surprising. Drawing on the strong brand presence of Coca-Cola, Publicis was able to repurpose the instantly recognizable branding of such a large, well-known company to instigate action. It helped encourage people who were already willing to recycle by making the process of separating waste easier for them. In this particular situation, the objective of using the traditional billboard wasn't necessarily to advertise a product or generate brand awareness. Instead, it was to drive consumers to take action, specifically to recycle. Coca-Cola and Publicis were able to achieve this goal by carefully designing billboards that were simple but memorable.
What Does This Mean?
Billboards. Still. Work. Yes, even in the age of technology and fast-paced internet, using billboards is still an effective way to expose your brand to the public. This old-school ad format is booming once again, possibly because digital ads are so commonplace now and definitely because of a myriad of interrelated reasons (such as reach and ease of use). Business giants such as Coca-Cola certainly haven't passed up on the opportunity to elevate their marketing strategies and have allocated a significant portion of their budgets to OOH, especially for billboards. Billboards are a big investment, but they can make all the difference in your advertising efforts.
---