The price of a golf lesson varies dramatically across the country and among individual instructors. You can expect different things depending on the price you pay.
Less Than $60/hour - For this price you can get a quality golf lesson but you will certainly be sacrificing some things. The practice facility may be crowded and the range balls may not be very high quality. Often your instructor will be in the early stages of the PGA Certification program. These types of lessons can often be the very best value for those who want to learn the basics of golf and don't want to pay through the nose to do so. If you are over and 18 handicap, this least expensive option is probably going to be the best bang for your buck.
$60 - $90/hour - This is the average range for most golf lessons. You can expect high quality instruction, a relatively good practice facility, and a generally pleasant experience. Most instructors in this price range have a Class A certification or have over 10 years experience in the business or both. You can feel comfortable that you're getting a very high value for your dollars in this range.
$100 - $200/hour - These will be premium lessons from premium instructors. Instructors in this price range will be Class A certified and have decades of experience. The practice facility will have the highest quality turf and range balls and should also have practice areas that allow you to work on all parts of your game. These instructors should not be booked by the beginning golfer. The beginner will probably not get their money's worth unless ambiance is highly important to them. Rather, they should be booked by serious golfers who are looking for more than a rudimentary understanding of the basics of the game.
The beginning golfer shouldn't make the mistake of thinking that more expensive is better. All instructors can help the beginning golfer so it is often best for students of this skill level to go with the cheapest option. For intermediate to advanced golfers, the price you pay will increase largely based on the expertise of the instructor. The more specific the expertise (e.g. Trackman certified, Aim Point Certified, etc.) the more expensive the lesson will be.
These specific areas of expertise are extremely valuable and can help golfers refine their games once they've reached a level of overall competency. Golf instruction can be extremely valuable to all golfers and having an awareness of your own ability level and what to expect from different instructors can go a long way towards saving you money while achieving your goals.
Certification Level - What's the Difference?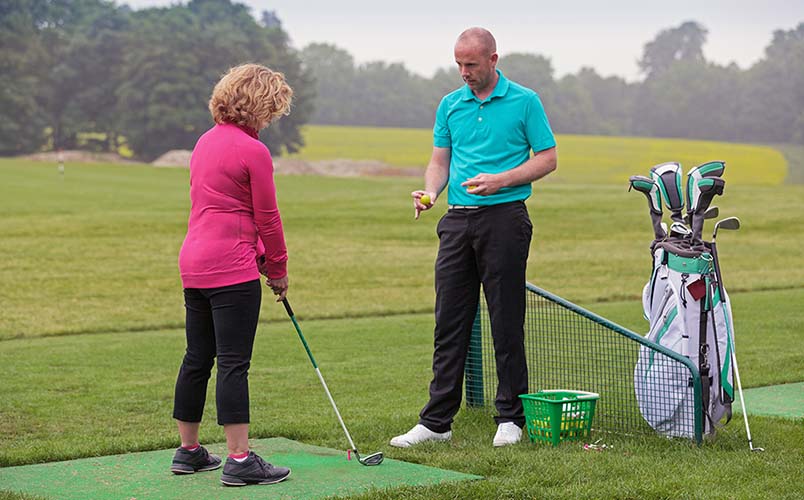 Instructors continue to improve themselves through certification programs aimed at increasing their overall knowledge about the game of golf.
Class A Certification - Class A certification is the highest level of certification offered by the PGA of America. A Class A certified teaching professional has passed the PGA of America certification program and can charge more per lesson because of that expertise. There is no need to inquire about a golf professional's certification level. You can see it in their job title. A head professional at a golf course will always be Class A certified while their assistants are usually still working their way through the program. Teaching professionals at a PGA of America facility will also have a Class A Certification.
Class B Certification - A Class B Certification most often refers to an instructor that is working as an apprentice to a head golf professional at a local club. Class B instructors are usually in the process of earning their Class A certification and working directly under the supervision of a Class A certified instructor is the only way to accomplish that task. These instructors are often young, hungry and motivated. They can provide a tremendous value for almost any student but are especially useful to the golfer who is looking to gain knowledge without incurring a premium cost. Class B instructors typically charge less for lessons than instructors with higher classifications but don't let the cheaper cost deceive you. These are quality instructors who know the game very well. They are often a steal at their reduced price. Act quickly, though, as these golf instructors will soon work their way through the PGA of America program and be able to fetch top dollar for their lessons.
Uncertified Teaching Professional - There are some who have become high level teaching instructors without going through the PGA of America Certification Program. These are most often former players who have spent their lives in and around the game of golf. You will hear about these instructors through word of mouth and they can often be very good despite their lack of certification. Be careful, though, and make sure that your uncertified professional comes highly recommended and have had success with previous students. The price these professionals change can vary greatly and without official certification it can be difficult for students to determine their quality before they take a lesson. User Reviews are the only way to ensure quality with uncertified professionals.
Trackman Certification - A Trackman certified instructor is an expert at using a launch monitor. The launch monitor is by far the most underrated tool by the general public. Historically, the launch monitor has not been readily available to the public. Within the last ten years, however, technology has continued to improve and made launch monitors such as Trackman more easily accessible. Launch monitors can tell you so many things about your golf game that you simply can't see with the naked eye. They analyze spin rate, swing path, launch angle, and many other key variables. A Trackman Certified instructor can help interpret these numbers and guide you in the direction you need to improve your golf game. This mix of instruction and technology is extremely valuable to students of all skill levels.
Aim Point Certification - An Aim Point Certified instructor, put simply, is a putting specialist. Aim point is fairly new approach to reading greens and making putts and has shown great value to many golfers in recent years. It is very rare to find an Aim Point Certified instructor. As such, these instructors often fetch top dollar for their highly specialized skills. If you're a novice golfer, your money could probably be better spent elsewhere. For the advanced golfer looking to get an edge over the competition, though, Aim Point Certified Instructors can provide useful insight that is difficult to find anywhere else.
What to Expect From Different Practice Facilities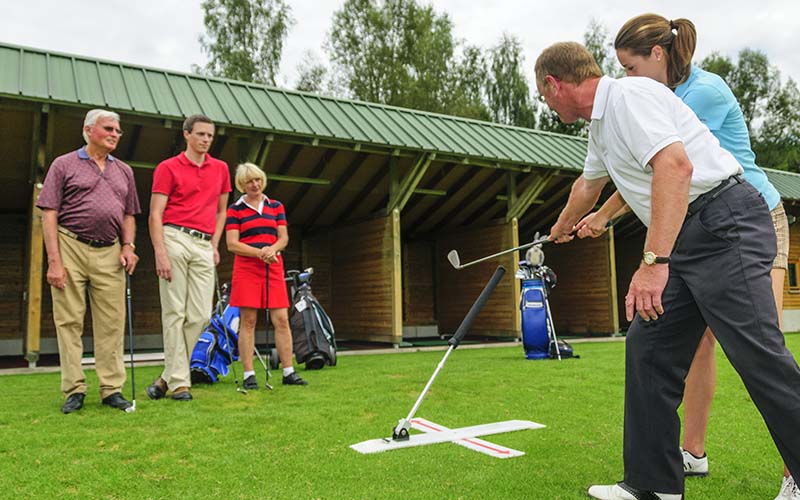 The practice facility an instructor teaches out of directly affects their overhead cost. Many high quality instructors teach from some unremarkable practice facilities to help keep the cost down for their students. While the practice facility is not of paramount importance, it is important to know what to expect when you pay different prices for golf lessons.
Range Balls - Every quality instructor includes range balls in the cost of their lesson. At a bare minimum, you should expect to get a free bucket of golf balls with your next golf lesson. If you pay 60 dollars or less for a 1 hour lesson with an instructor, don't expect the range balls to be very high quality. Most of the money you are paying for a lesson at this price is for the knowledge of the instructor. If your lesson is priced near 100 dollars or higher, you should expect high quality range balls to come with it.
Turf - Well-maintained turf is expensive. For lessons in the lower price range (less than 60 dollars/hour), you can expect to be practicing off of mats. If you do find an instructor in this price range who teaches off grass, do not expect that grass to be well-maintained. You are paying for the instructor, not the facility. The more expensive the lesson is the more you should expect the quality of the turf to improve. If you pay more than 150 dollars for a lesson from a premium instructor, you should expect to be practicing at a country club quality facility with fantastic turf and an overall environment of high quality golf.
Crowds - The more expensive the lesson, the less crowded you should expect the course to be. Many instructors have an area of the range designated specifically for professional golf instruction away from the crowds. Once again, if you are getting a lesson for a relatively low cost this may not be the case. You may end up practicing among the masses if you get a lesson at a public golf course from a lower cost instructor. If you're paying a premium price, though, expect to have an area of the range all to yourself where you can absorb the information from your instructor and enjoy the day.
Chipping Greens - Many public driving ranges do not come with a chipping green. Remember, if you are taking a lesson for a relatively low cost there are things that you sacrifice and this may be one of them. If you are specifically looking for a chipping lesson, you may want to take this into account when booking your instructor. All high-end facilities will have a chipping green that you can practice on as a perk of the premium lesson price you will pay to learn there. Some lower end facilities may also have chipping greens but it is certainly not a guarantee. Inquire with your instructor if this is a point of concern so you know exactly what you're getting before you show up.
Putting Greens - Virtually every practice facility has a putting green of some sort on the premises. If you are learning at a public course where your lesson cost is low, the quality of the putting surfaces can be hit or miss. Good greens should not be expected when you pay a low price for a lesson. If you are paying over 100 dollars, though, you should expect to be at a facility that has fantastic greens. Often these options can be the best choice for golfers who want to improve their putting with quality instruction.
---